PRS Excellence award winner: Gilson Gray Lettings ECO3 grant project

The winners of the Chartered Institute of Housing's (CIH) Scotland Housing Awards for excellence in housing have been announced at a special ceremony at the DoubleTree Hilton in Glasgow on Thursday 25 November 2021.
Congratulations to the winner, SAL member agent Gilson Gray Lettings for their project ECO3 Grants.

The award, sponsored by SAL, is for landlords or letting agents who strive to excel in the areas of customer service and innovation in the private rented sector (PRS).

Pictured left to right are Sam Paulo, Gilson Gray Head of Lettings; Mike Campbell, CLA director and Marcus di Rollo, Gilson Gray Lettings Director who said:
"It was a great night and we are honoured to be recognised by CIH and SAL. Gilson Gray Lettings have a conscious ethos of going above and beyond to provide innovative solutions for landlords and tenants and the ECO3 grant was one that really resonated with us as it improved housing and living conditions to those in most need, whilst also assisting in reducing the carbon footprint.

We are so passionate about improving living conditions, the energy performance of properties and reducing living costs that our work with the grant is still on-going. Being recognised for this work will hopefully also increase awareness of the benefits that can be delivered by the grant. The positive responses received by tenants is very humbling".

Any landlord or agent can enter so watch out for the 2022 application process next year.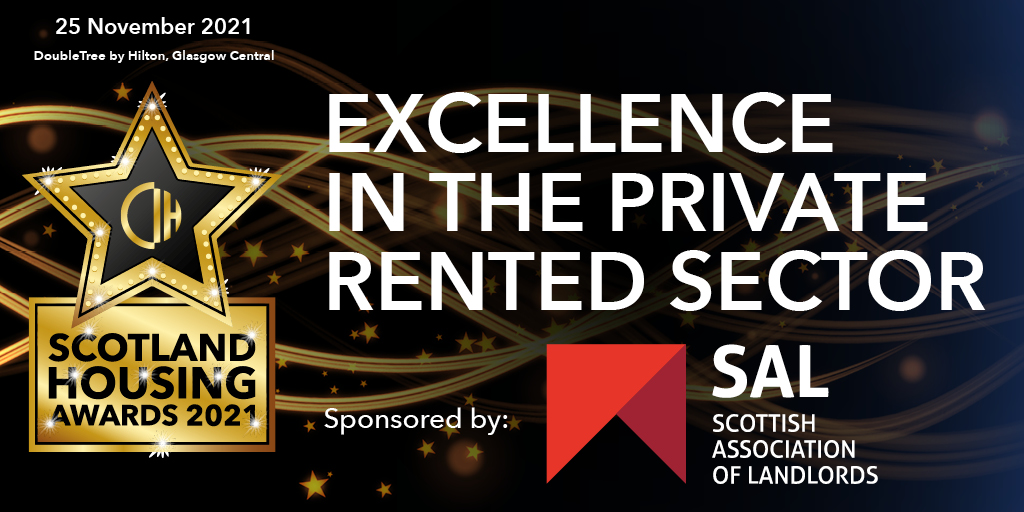 List of all award winners
Excellence in customer service:
Kingdom CARES: Delivering customer service excellence, Kingdom Housing Association
Excellence in housing innovation:
Old Sawmill development, Rothiemurchus Communities Housing Trust
Partners: Rothiemurchus and Old Sawmill Cooperative
Working in partnership:
Changing lives at the Bellgrove Hotel, Wheatley Group
Partners: Glasgow City Council
Excellence in development for affordable housing:
Affordable modular homes – Isle of Mull, The Wee House Company
Partners: Mull and Iona Community Trust
Excellence in tenant scrutiny – sponsored by Scottish Government:
Kingdom Tenant Scrutiny, Kingdom Housing Association
Excellence in organisational change:
Changing lives in a pandemic, Wheatley Group
Excellence in the private rented sector – sponsored by Scottish Association of Landlords:
Excellence in regeneration:
Achtercairn development – Gairloch, Communities Housing Trust
Housing provider of the year:
Excellent Tenancy Toolkit, Link Group ltd
Excellence in health and wellbeing:
More than a landlord, Wheatley Group
Excellence in communications – sponsored by Resource:
Communicating in a pandemic, Wheatley Group
Apprentice of the year – sponsored by Queens Cross Housing Association:
Carla Hutchinson, Places for People
Alan Ferguson – outstanding contribution to housing:
Robina Qureshi, Positive Action
Excellence in leadership – sponsored by ALACHO:
Ann Leslie, Lar Housing Trust
John Mills, Fife Council
Best frontline housing story:
Tenant participation team, North Lanarkshire Council
Housing team of the year – sponsored by Fife Council:
Staff team, Ruchazie Housing Association
Bob Allan – young achiever in housing – sponsored by Glasgow Housing Association:
Alastair Burke, Ferguslie Park Housing Association Ltd