Our member magazine, Landlord Focus is the leading publication for all involved in private sector letting in Scotland. Written, designed, published and printed in Scotland, it is sent to members three times per year in March, July and October.
Each issue includes a wide variety of informative, readable articles on topics of interest to landlords and letting agents. All content is written from a Scottish perspective making this specialist journal unique. Members – you are always welcome to send us your ideas for content or to volunteer to be in the member profile features.
We welcome advertising enquiries from companies who wish to promote to this valuable market. Please email us via landlordfocus@scottishlandlords.com or call 0131 564 0100 to request information plus our media pack and rate card.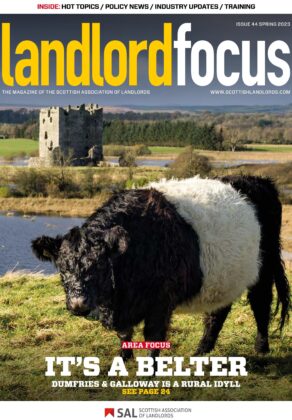 Spring 2023
Issue 44
Posted to members mid March 2023
Features included:
John Blackwood – we're in this together
Mould – prevention is the best strategy
Is your factor working hard for you?
A Day in the Life of Jamie Allardice
Market focus on Dumfries & Galloway
Buying an unoccupied property
Software to help manage your properties
Using mediation to solve disputes
Member profiles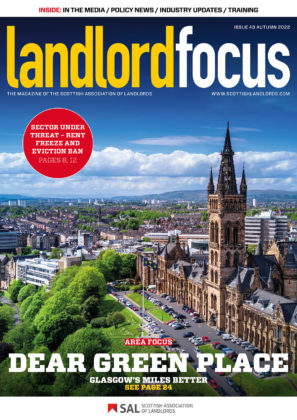 Autumn 2022
Issue 43
Posted to members end October 2022
Features included:
Rent statements
What is "wear and tear"?
Being alert to exploitation
A Day in the Life of John Blackwood
Market focus on Glasgow
Summary of SAL factsheets
Bats in the belfry
Property maintenance
Member profiles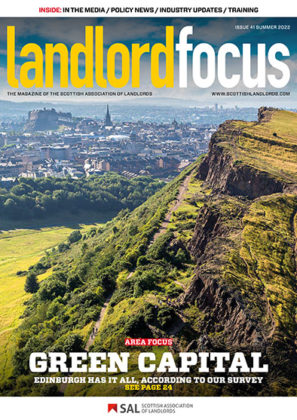 Summer 2022
Issue 41
Posted to members end July 2022
Features included:
John Blackwood – politicians need to listen
Preventing anti-social behaviour
Electric vehicles in the private rented sector
A Day in the Life of John Beattie
Market focus on the capital city of Edinburgh
Thermal bridging
Rent arrears issues
Retrofitting for energy performance
Member profiles
Older issues
Spring 2022
Issue 40
Posted to members end-March 2022
Features included:
"A New Deal for Tenants" government consulation
Letting to pet owners
Member survey results
A Day in the Life of Mike Campbell
Market focus on the Scottish Borders
Smart meters
Rentals with gardens
Know the letting agent code
Member profiles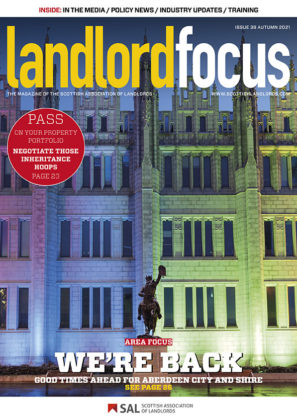 Autumn 2021
Issue 39
Posted to members mid-October 2021
Features included:
Subject access requests
Hoarding
Housing Mediation
A Day in the Life of Tara Willis
Market focus on Aberdeen
Tenant referencing
Online training – live webinars and videos 24/7
Passing on a rental portfolio
Member profiles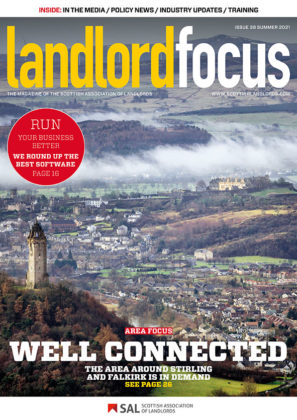 Summer 2021
Issue 38
Posted to members mid-July 2021
Features included:
Cladding update
Property software
Housing Mediation
A Day in the Life of Judith Dunn
Market focus on the Stirling and Falkirk
The new Scottish Parliament
SAL online events for you
Helping deaf tenants
Member profiles